Harrogate Utility Department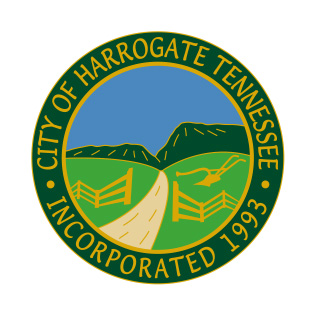 City of Harrogate Utility Department
Harrogate City Hall
138 Harrogate Crossing
Harrogate, TN 37752
Business Hours:
8am to 4pm Monday thru Friday;
Closed for lunch 12-1pm
Closed Saturday, Sunday, and Holidays
Office Phone: 423-869-0211 Fax: 423-869-0022 Email: cityofharrogate@hotmail.com
After hours or weekend emergency numbers call: Gary Robinson: 423-489-4135
If no answer: Justin Cupp: 423-489-390 or Tyler Cupp: 865-279-3150
YOU CAN PAY YOUR SEWER BILL
ONLINE OR BY PHONE
When paying in person, please bring your entire bill.
We accept, cash, checks, and money orders, debit or credit cards
PAY YOUR SEWER BILL ONLINE
BY CLICKING ON THE
LINK (IN GREEN) PROVIDED BELOW
CitiSen Portal - https://citisenportal.com/Account/Login
TO PAY BY PHONE
PLEASE CALL THE TOLL FREE NUMBER
PROVIDED (IN BLUE) BELOW
CitiSen Portal Toll-Free Number 833-560-2598
When mailing payments, please include your billing stub and send to:
Harrogate Utility Department
138 Harrogate Crossing
P.O. Box 979
Harrogate, TN 37752
For your convenience, a secure payment box is available and located at the entrance of the city hall parking lot. *We are not responsbile for payments left in the payment box without the billing stub included*
All payments are due on receipt and will be accessed a 10% late fee if paid after the 20th of the month. If bill remains unpaid after the due date, service may be disconnected.
~~~~~~~~~~~~~~~~~~~~~~~~~~~~~~~~~~~~~~~~~
THE CITY OF HARROGATE UTILITY DEPARTMENT
WILL SOON BE CONDUCTING NON-TOXIC SMOKE TESTING
OF THE SANITARY SEWER LINES
PLEASE BE ADVISED THAT CITY MAINTENANCE STAFF WILL BE CONDUCTING THESE TESTS. IF YOU HAVE QUESTIONS, PLEASE CONTACT CITY HALL AT 423-869-0211.
HARROGATE UTILITY DISTRICT
Certain Operating Policies

Shut off/Reconnect Policy: Past due bills are subject to cut off for non-payment. Your water service will be terminated and a reconnection fee of $50 will be added. Water will be reconnected only after all sewer usage charges are paid in full to the City of Harrogate.
Residences not connected to public water: Single-family residences that are not connected to the public water system will be billed at the minimum rate usage for sewer usage.
Maintenance policy for Residential and Commercial E-ONE pump systems: Each sewer customer will be billed a monthly maintenance fee based on the current rate structure in effect if the residence or commercial unit is supported by an E-ONE pump system. This commercial rate policy applies to commercial systems that serve multiple (four or more) units. Less than four­ unit commercial
systems will be reviewed and assessed upon installation.
Owner responsible for tenants' unpaid sewer service. Owners of any property receiving water or sewer service shall be responsible for any fees charged to any tenants of said property that are
not satisfied by that tenant.
Swimming pool wastewater usage credit. (1) Wastewater customers shall pay the appropriate water rates for filling of swimming pools. One adjustment per year may be made by the billing clerk on the sewer bill for water used to fill a swimming pool. The pool must be a minimum size of one-thousand (1,000) gallons and must not drain into the public wastewater system. The adjustment
shall reduce the sewer service charge for the number of gallons required to fill the pool. Adding water to an already filled pool does not qualify for an adjustment. The clerk may determine the
amount to adjust by subtracting the previous three months' average from the current billing.(2) The customer must notify the city before filling the pool.

What NOT to put in the sewer system

A reminder that if a product claims to be "disposable", it does not mean it is "flushable"
Items claiming to be "biodegradable" do not necessarily break down well enough to be put into a sewer system.
Many materials potentially flushed or poured down the drain can harm the pipes that connect to our sewers, the sewers themselves, as well as the treatment plant, eventually harming the environment. If it doesn't dissolve immediately in a bowl, it has no place in the sewer. The exception, of course, is toilet paper.

Grease is a major problem for sewer systems.
It will coat the sewer walls and eventually cause a clog and back up. Instead, please pour grease into a container, let it solidify, and throw it into the trash.

Toxic materials are also not allowed.
Anything that contains mercury or PCB's is prohibited. Paints, pesticides, paint thinners, solvents, explosive mixtures, and unused medications are not allowed.

Other common items that should not be flushed into the sewer system:
* Plastic objects, (toys, eating utensils, etc...)
*Glass, metal, wood, or soil
*Cooking oil,or other edible food oils
*Hand towels, washcloths, or paper towels
*Feminine hygiene products and sanitary napkins
*Diapers, cotton balls, and swabs
*Cigarettes
*Hair clippings
*"Flushible" toilet cleaning brushes, pads and wipes
*Mop cloths and mop heads

Thank you for your cooperation!
FEES AND CHARGES RELATED TO THE OPERATION OF THE SANITARY SEWER SYSTEM
At minimum fee (up to 2000 gallons) $25.16
Over minimum fee (more than 2000 gallons) $21.05 per thousand gallons
E-One maintenance fee $20.00
Re-connect fee $50.00
(Non-refundable) Application fee $125.00